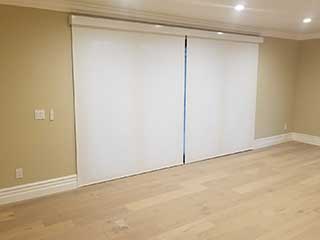 The most complete light protection a window can have, blackout blinds are named after what they do. This category of blinds includes any whose panels are both 100% opaque, and able to lock together without any space in between them at all. Motorized Shade Experts produces a variety of custom-designed blackout blinds that fit the bill. Our shading products and services are available and affordable for all Poway windows!
Custom Blackout Blinds In Poway
The name often evokes the image of a black, austere looking window treatment, but these blinds don't need to have dark colors. They can be anything from pure white to deep blue to pastel pink, as long as they keep out all of the sunlight! You can choose everything from color to material for your blinds, as well as opening mechanisms and structure. Vertical blackout blinds are best for long, low windows. Horizontal ones for tall, narrow ones. Blackout blinds for bedroom windows should be soothing, while those meant for the office need to be professional looking. Our experts will help you pick the best options for any room in your home or business, but the choice is always yours!
Blackout Window Treatments – Home And Business Applications
Any room with a window can get something out of these treatments, and they'll always make a much more inviting atmosphere than solid shutters would! Blackout blinds for skylights can prove a real lifesaver on summer middays. Whether at home or work, any window that points skyward should have recourse against harsher sunlight! Blackout blinds for office windows can keep out distractions, and protect delicate computer screens, while still letting in some air. If you have a set of French doors, some vertical blinds can cover them well. Blackout blinds for French doors give you some protection and comfort with your class!
Motorized Blackout Blinds Options
Remote control window blinds save you a lot of trouble throughout the day, and over time they can even save you money! Smart blackout blinds that open and close themselves as needed make it so you don't have to rely on your memory or your physical presence. The savings in air conditioning, heating, and home repair expenses over the years can sure add up! Try our motorized blackout blinds with timers or sunlight sensors to get the best effect. Our blinds installation services in Poway include setup and programming for remote controls and computerized accessories.
The Best Blackout Blinds At The Best Prices
Motorized Shade Experts believes in giving you as much control as possible over the window shading product you order. During our free consultation appointments, our team will give you the full rundowns. We'll listen to your wants for the product, list the pros and cons of each option, and give you the estimates. Once we've finished building the blackout blinds to your specifications, we offer maximum flexibility with our follow up delivery and installation services. If you want quality at affordable rates, then contact us for the best choice for custom made blackout blinds in Poway. Call us to arrange a free in-person consultation at your earliest convenience.