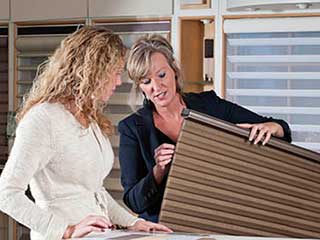 Window shades are very important if you want to protect yourself and your furniture from harsh sun glare and UV rays. In addition to blocking and filtering sunlight, window coverings can also help you insulate the room better. Cellular shades are specifically built to serve this purpose. Their special structure allows them to form air traps that reduce heat loss and can make heating and cooling your indoor environment much easier.
The Air Insulation Method
So how do cellular shades enhance the room's thermal efficiency? The clue is in the title. The cellular structure of these window coverings is what allows them to form the buffer that keeps heat from transferring from inside of the room to the outside, and vice versa. The more insulated the room the less you'll have to spend on energy. There are variations that change according to cell size and amount of layers. Single cell shades suit smaller windows and double cell covers fit larger framed openings.
Light Filtering Cellular Shades
Apart from the insulation these window coverings can add, they also serve the purpose that all shades do, which is to diffuse sunlight. This is where choosing the right type of fabric for the room plays a major factor. You can opt for sheer cellular shades for areas of your house where you want to utilize natural light during most of the day. For other areas, like the bedroom, blackout cellular shades will be more suitable. The cellular structure tends to create a kind of pleated look which many find to be a great décor enhancement. You also have your choice of designs with all sorts of patterns and colors that can complement the rest of the room without claiming too much attention. Alternatively, you can go for something more eye-popping and captivating for an elegant and demanding look.
Find The Covers That Suit Your Needs
Are custom cellular shades the right choice for your home or business? Maybe. Maybe some other type of window treatment will work better. The easiest way to find out is to schedule a free consultation (yes, free!) with an expert from Motorized Shade Experts. You'll get all the information you need and have the option to design a custom set of cellular shades or any other type of covering.
Other available products:

Solar Shades

Vertical Blinds

Vinyl Blinds

Exterior Shades