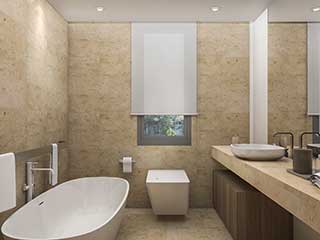 For those who don't want something elaborate or over stylized for their window coverings, roller shades are the perfect option. Despite their simplistic build, these shades still have a lot of versatile options, and can be customized in terms of colors, designs, and patterns.
The Way They Work
Blinds consist of vanes that can be adjusted separately in order to filter sunlight in varying degrees. The disadvantage of such a build is that there always seem to be some slivers of sunlight that manage to get through the tiny gaps between the vanes, unless they're made with overlapping sections. With roller shades, you have a sheet of fabric strapped to a bar, which you can roll up or down to lower and raise the shade. This allows you to cover a window entirely or partly, depending on the amount of sunlight outside. The simple design means installing these shades is very easy, as is controlling them. Cordless roller shades are a very popular variation which leaves no dangling ropes or chains, which can pose a safety risk for young children and pets.
Custom Made Roller Shades
By getting your coverings made to specific dimensions, you can ensure they cover the windows perfectly and leave no gaps for sunlight to seep through. The variety of roller shades doesn't just end with design, color, and pattern. You can also choose different types of fabrics, in varying levels of opacity. If you're looking for more light filtering then sheer roller shades will work great. For room darkening or even complete darkness, blackout roller shades will be a great choice.
Motorized Roller Shades
Apart from cordless options for manual shades, you also have the option to automate these roller coverings. This is the more modern variety, which many home and business owners tend to opt for due to the many different benefits. Motorized roller shades, especially when custom made, have a very cool and hi-tech vibe that really enhanced the ambiance and décor of a room.
Custom Roller Shades Near You
Schedule a free consultation appointment with an expert from Motorized Shade Experts and learn what types of combinations you can get from these window treatments. Don't let the simplistic build fool you. Roller shades have an understated look that exudes elegance without trying for extravagance. Find out more by contacting us today.