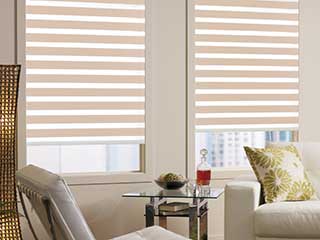 One of the more modern and innovative types of window coverings is layered shades, who, with their unique build, combine privacy and light filtering into an easily switchable form. They're especially great for those who want to have the option to easily transition from privacy to visibility. Layered shades can grant you effortless light control while also giving the room a unique décor enhancement. If you're looking for new window coverings for your home or for your business, you may want to consider these uniquely designed shades. Their modern design and sleek looking style make them perfect for all sorts of rooms.
The Unique Build
So how are layered shades built? Well, these window coverings consist of two sheets of fabric with stripes of dark and sheer colors, alternating like zebra stripes. They're position over roller bars, hooked together in a loop. As the layered shades roll in the loop, the sheer and dark slats cover their counterparts on the other side. When sheer slats cover sheer slats, sunlight filters through with glare and UV rays being reduced. When dark stripes cover the sheer stripes, you get total blackout. The layered shades can be adjusted to achieve varying degrees of room darkening or light filtering conditions. Adjusting them is as simple as pulling on the cord to initiate the looping motion and move the stripes up or down.
Variety In Design
Because layered shades must consist of a striped design, the amount of variety is more limited than, say, with regular roller shades that consist of a blank sheet of fabric. However, that doesn't mean that there are no customization options. You can opt for all sorts of colors and patterns for the striped designs, with the sheer ones giving the incoming light a tinge of color that can help you create a certain type of ambiance. Layered shades have a unique look, though, which does combine well with different types of decors. They're really great for modern environments and decors, as is often prevalent in office spaces, modern household kitchens and living rooms, and various other properties.
Motorized Layered Shades
If you want to not have to manually raise or lower your window coverings, automating them is a very viable option. This especially goes well with layered shades, that already have a high-tech look via their striped design. Now add automation and you've got something that looks even more modern and sleek. Motorized layered shades provide a very elegant and classy décor enhancement that utilizes modern technology to bring you optimal light control. Lutron and Somfy layered shade control and operation methods can allow you to use Wi-Fi technology to control these covers with your phone or with your smart home system.
Design Your New Custom Made Shades
Consult with our experts here at Motorized Shade Experts (for free!) and let's customize your new set of window coverings. Get your custom made layered shades in the color and design you want, with the operation method that best suits your needs and your budget. Call today for more information.
Other window treatments we can make for you:

Aluminum Blinds

Luxury Window Blinds

Cordless Blinds

Motorized Outdoor Patio Shades