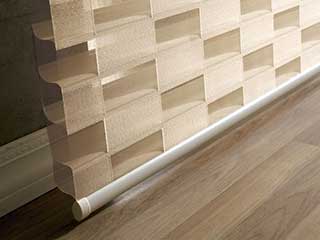 If you're looking for a versatile window covering solution, there's no need to settle on one type. Sheer shades with fabric vanes are the perfect combination that offers the best that both blinds and regular roll up shades have to offer. Your ability to control sunlight is incredibly nuanced with these coverings, and the design combinations and customization options afforded by the unique structure are nearly limitless.
The Main Attractions
So what's so great about combining blinds and shades? Well, you really get the best of both worlds, so to speak. Sheer shades utilize fabric vanes and a sheet of fabric that serves as a backdrop, so their ability to filter sunlight to varying degrees is unparalleled. You can have the sheer cover rolled all the way down and set the vanes in the fully open position. This allows you to ensure that only filtered sunlight gets through, and that enough light enters without causing glare. If you want more privacy, you can simply adjust the vanes or close them. Sheer shades have a lot of variety in terms of how much filtered sunlight they let through, and this makes them an excellent addition to those who want to utilize a natural light source to brighten up a room.
The Color and The Shape
Because sheer shades have a more intricate structure, they allow for a lot more customization. You can choose different colors and designs, and even fabrics, for the backdrop sheet and the vanes. Combining sheer and opaque fabrics and contrasting color shades can give you a very unique looking décor enhancement that also has a lot of functional usage. The choice is completely up to you, and the design options are as many as you can come up with. The color you choose for the backdrop fabric can give the filtered sunlight a touch of red, blue, green or any other shade you choose. This can help you create an indoor ambiance that's cozy and unique, and very easy on the eyes, literally.
Motorized Sheer Shades
One of the best ways to really get the most out of custom sheer shades is to have them motorized. With Luron and Somfy powered shades you can use anything from a smartphone or a tablet to voice commands to control your automatic window coverings. You can even set them on a schedule and have them open and close automatically, or adjust to the change in sunlight during the day via special sensors. Self-adjusting sheer shades will make it so you don't have to lift a finger to control the light that gets into your home. Your smart home system will take care of everything for you.
Find Out More
If you want to see whether or not custom made sheer shades are the right window treatment option for you, simply give us a call. Motorized Shade Experts is happy to help all nearby home and business owners find the perfect covers for their windows, whether they're sheer shades, faux wood blinds, or anything else, from motorized curtains to custom sheer drapes. You can design a set of covers that suit your personal taste and budget, choosing from a wide selection of materials, patterns, and operation methods.