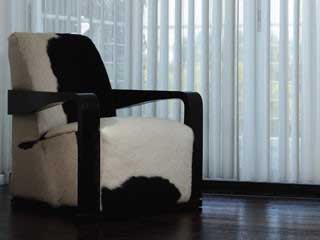 Keeping your rooms cool and comfortable couldn't be easier than with our amazing range of custom vertical blinds. Motorized Shade Experts specializes in making and installing vertical blinds for glass doors and window walls. So if you're looking for vertical treatments, you've got a local company to turn to for a free estimate. Our prices make it easy to choose window coverings for your entire home, and our top-quality design process means you're always getting the perfect result. What more could you ask for? To start designing your own window coverings, and to get a free estimate for vertical blinds installation, get in touch and book a free in-person consultation. See all the different options we can offer your home/office and choose the custom design you want.
Low-Cost Vertical Blinds
Spend less money keeping your property comfortable by picking our custom vertical blinds without compromising on quality. Although our prices are affordable, we don't cut corners with the materials or the installation work. Our high-end door and window treatments can consist of a wide range of materials, from aluminum and vinyl to real wood. This means it's easy to find the perfect vertical blinds for a Poway bedroom, living room, kitchen or even your office windows. Our stunning range of colors provides everything from rich, warm hues to bright, airy, summer vibrancy. Unleash your interior design dreams with our fantastic array of top-quality design choices. Get a better feel for the options we provide by scheduling your free consultation today.
Workplace Improvements With Commercial Vertical Blinds
When you install vertical blinds at your workplace, you make it easy to control the amount of sunlight entering the building. This can be very important because it lets you keep out unwanted glare and dazzling light. This can lead to reduced levels of eye strain and helps prevent your employees from getting headaches (particularly during long meetings). Furthermore, by keeping out bright light during summer you keep cooler at no extra cost, and you can also easily improve privacy. Our vertical blinds for office windows in Poway and nearby are custom-made to your requirements. And our rates mean it isn't hard to stay within budget.
Vertical Blinds For Poway Homes
We know that every home is different, which is why our range contains such a wide variety of amazing products. Motorized vertical blinds make any property more convenient, and adjusting your window coverings with only a tap on your smartphone feels like a real step into the 21st century. In addition to this, we provide specialized products for all sorts of different uses. Vertical blinds for sliding glass doors provide perfect privacy without getting in the way of the door. In the same way, our range of vertical blinds for patio doors also let you get the privacy you need without sacrificing practicality.
Get a Free Quote On Custom Blinds
Improve your Poway property with made-to-measure vertical blinds from us, your local source for door and window treatments. We offer more than a simple manual version. Our motorized vertical blinds can allow you to control different sets simultaneously. That's perfect for office windows or a room with a lot of glass walls. You can also get blackout vertical blinds that completely block sunlight when closed. Whatever solution you need for your business or home, our team here at Motorized Shade Experts can provide. Give us a call and schedule a free estimate to find out more.