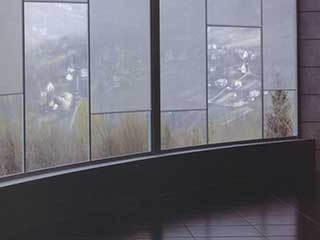 Any place of business needs to be properly lit, and natural light is the best way to do this. However, controlling the natural light that enters a building isn't as easy as it sounds; you need to be sure that your window coverings are up to the job. With high quality commercial blinds and shades, you'll have no trouble achieving a pleasant and workflow conducive indoor environment.
Health Problems From Poor Indoor Lighting
Few business owners take the time to consider whether the natural light in their property will have a health impact on its occupants. However, it's well-known that poorly-controlled natural light can have negative impacts on customers and employees. That's why blinds and shades are so important. Too little light is a recipe for eye strain, as staff people to read clearly in a dim room. Conversely, too much light can cause glare-induced headaches and migraines, severely cutting employee productivity. With the use of blinds or shades (or both) you'll be able to adjust indoor lighting conditions to suit and enhance the healthy and productive work environment you undoubtedly want to maintain.
How To Control Natural Light
Ensuring that your building is fitted with the right type of window coverings is essential. These need to be not only effective at cutting out light, but also easy to adjust to the correct position. Some prefer the adjustability that blinds offer with their vanes, while others opt for the décor enhancement that shades provide. There are also things like sheer shades that utilize both vanes and a fabric layer to offer maximum versatility. The selection is quite extensive. Remember, it's no use having a set of window coverings that can only be positioned with a lot of hassle; it should be easy to adjust natural light to the right level throughout the day.
Motorized Shade Experts Can Help
Our experienced representatives know precisely what's needed to provide an effective and convenient way to keep the indoor lighting conditions of your business optimal. With a free in-person consultation at your premises, our experts will guide you through the various blind and shade options available to you and how they can work to minimize glare and maximize visibility throughout the building.