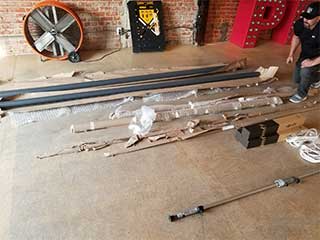 When it comes to smart shading solutions, Somfy offers a fantastic variety of innovative technological control methods. Motorized window blinds give your home or business a major upgrade, influencing not only décor but its utility as well. You can better control indoor climate and energy efficiency with smart Somfy blinds, and easily optimize the environment to different settings that suit you at different times. Our Poway Somfy blinds installers give customers a huge range of choices for automatic window covering solutions. From motorized blinds to curtains, awnings, and rolling shades.
Window Blinds With Somfy Controls
In the past, motorized blinds came down to a loud droning motor with an adjacent wall switch that took forever to lift and lower the blinds or shutters. But no more! With Somfy blinds shading solutions, you've got fast and silent smart window coverings perfect for different uses. Motorized window blinds can block sunlight very well, or diffuse it to allow soft natural light to illuminate indoor spaces. Using Wi-Fi remotes, smart Somfy controls, and other systems, you can optimize your utilization of sunlight diffusion at all times. Blackout blinds for bedrooms and sheer Somfy window shades can serve as excellent additions that increase décor and energy efficiency.
Motorized Patio Covers
Add retractable motorized shading solutions to any outdoor lounge space in Poway or nearby areas and get a comfortable place to enjoy dining or social gatherings. Motorized Somfy awnings and outdoor covers give you aesthetic, waterproof solutions with silent motorization features. Push a button and your Somfy patio covers will roll out or unfold to shade the designated area. You can choose different looks as well as different control methods to find the ideal solution for your needs.
Custom Somfy Blinds For Your Poway Office or Home
With the unique and reliable blinds, motorization features Somfy offers, you can improve window treatment usage in any room of any property. Different designs and remote control options will suit different needs better, so it's a good idea to talk to an expert and pick and choose what works for you. Looking for a great source for custom made Somfy blinds near Poway? Go ahead and schedule your free estimate with our local motorized window blinds and shades experts. Get all the information and advice you want for free!