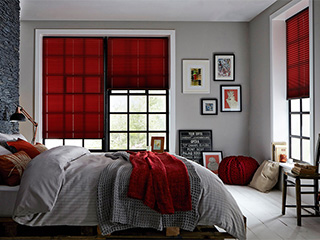 Bedrooms need window treatments more than any other room in the house. The wrong kind can ruin your privacy and your sleep pattern, so it's important to choose blinds, shades or curtains that serve their purpose well. Read on for a list of the most popular window blind styles for bedroom windows, and what they each bring to the table. Remember, each of these can be custom made for your needs and budget. You need only let the Motorized Shade Experts team know you're interested to get a free estimate.
Cellular Shades For Insulation

This style of high tech, low-cost cellular window shade gives you both total coverage and better energy efficiency. The overlapping tubular layers slow heat diffusion to a crawl, making sure your bedroom stays warm or cool without needing as much AC/heater work. Even motorized cellular shades shrink your electricity bill over time! The multiple layers of rigid material also make for full sunlight protection and total privacy. Cellular shades also reduce outside noise in addition to providing thermal insulation.

Blackout Curtains and Shades

These room darkening shades and draperies are as light and airy as any other. What makes them special are the super-opaque fabrics that keep out more than 99% of the sunlight. You can enjoy a soft, cozy atmosphere while enjoying the protection and privacy you could otherwise only get from solid window shutters. Since these blackout fabrics can come in any color, you're also free to pick out patterns and shades that keep the room bright even without any sun. The benefits of blackout curtains and room darkening shades make them a worthwhile investment for bedrooms and other residential and commercial rooms.

Pleated Roman Shades

The elegance and beauty of these folded pleats can't be beaten, and they make a bedroom feel homey and decadently luxurious all at once. The partial overlap of each fold helps keep out more sunlight. If you have your pleated Roman shades made from a thicker or more opaque fabric, they can create a complete blackout. Another major point in Roman shades' favor is the ease of customization and embellishment. The pleats can have all sorts of trimmings and designs that make them enhance the décor even more. Cordless Roman shades are another very popular option that many Poway home and business owners go for.

Adjustable Venetian Blinds

They might not look fancy, but Venetian blinds give you more control over the light levels than just about any other option. Put a sheer solar or light-filtering fabric sheet over them, and you'll have something extra soft and privacy-protecting! Combine them with some curtains or drapes for a gentler and more aesthetic texture, and you'll have something both decorative and effective.
Get a Free Estimate on Custom Bedroom Blinds
Motorized Shade Experts has plenty more free information about window coverings available for you. Get in touch with us to meet an expert on window shades at your home or office for a no-obligation consultation appointment. See all the combinations and variations of motorized blinds and bedroom shades available before choosing the perfect set for your property.