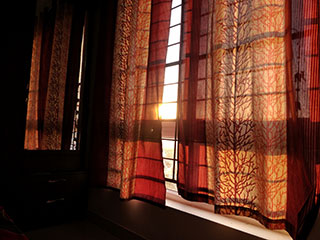 To better optimize sleeping conditions in bedrooms and improve privacy in other spaces, consider blackout curtains. These room darkening window covering solutions provide an aesthetic addition as well as a functional one. Blackout bedroom windows help ensure you get proper sleep each night. With office spaces and other areas, you can improve privacy with blackout window coverings. Our Poway window curtains interior design experts can help you find the perfect choice for your property. With blackout window curtains custom made, you can choose designs, sizes, and more features for a made-to-measure set.
Bedroom Curtains – Blackout Window Coverings
Sleep has such a huge influence on our daily lives, and yet so many people take it for granted. Blackout window curtains in your Poway bedroom help you make sure you get proper rest and don't wake up too early. Even a hint of sunlight can mess with your sleep and make you groggy. Not only when you wake up, but for the rest of the day. Blackout bedroom window curtains help ensure you don't get woken up by early morning sunlight and can stay asleep for as long as you please.
Room Darkening Window Curtains For Living Rooms
In areas where you watch television, you'll want to have draperies and window coverings that prevent glare. Blackout curtains don't let any sunlight pass through their thick fabric. This makes them great as living room curtains, as the blackout fabric will prevent sunlight from bouncing off the TV screen. Blackout curtains in living rooms help create a great TV watching atmosphere. You can enjoy movies or shows in complete immersion this way. Long blackout curtains can fit window walls and sliding glass patio doors too. This creates a more private setting, perfect for late at night or for during the day. Since the living room sees a lot of traffic, you'll want to get curtains for the windows that meet any specific need you have.
Get Window Curtains Motorized With Wi-Fi
With electric window coverings, you can use a remote control to position the blackout curtains in bedrooms, kitchens, offices, or other spaces. Motorized window curtains let you effortlessly control their position. This makes deciding how much natural light enters the room easy and quick. Got into bed and forgot to draw the curtains? All it takes is the push of a button. The motorized blackout curtains in your bedroom will slide across the curtain rods until you tell them to stop. Many people choose motorized curtains for all sorts of properties. The benefits of automatic window coverings have made motorized window curtains, blackout or sheer, hugely popular in Poway and nearby.
Affordable Blackout Curtains For Your Poway Home or Business
See for yourself what sorts of beautiful designs room darkening window curtains can flaunt. With a free estimate from our local team, you can customize blackout curtains for any Poway house, office, apartment, or other. We offer cheap blackout window curtains for any purpose, with high-quality fabrics that last. Choose aesthetics and materials that provide the best choice for any need you've got. Book a free consultation to learn more!