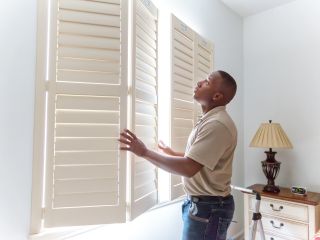 Welcome to Poway's Leading Motorized Shade Experts!
About Us
At Motorized Shade Experts in Poway, we specialize in enhancing your living and working spaces with the timeless elegance and functionality of plantation shutters. With a keen focus on motorization using top brands such as Somfy and Lutron, we're dedicated to providing the highest quality window treatments for both residential and commercial properties.
Our Services
Plantation Shutters
Upgrade your windows with our exquisite plantation shutters. Our experts will guide you through a wide range of design options, materials, and finishes to ensure your shutters perfectly complement your space.
Motorization
Experience the ultimate convenience with our motorized plantation shutters. With advanced technology from Somfy and Lutron, you can effortlessly control light and privacy with the touch of a button.
Why Choose Plantation Shutters?
Plantation shutters offer a multitude of benefits compared to other window treatments:
Timeless Elegance: Their classic design enhances the aesthetics of any space, from traditional to modern.
Durable: Crafted from high-quality materials, our plantation shutters are built to last.
Energy Efficiency: They provide insulation, helping to regulate indoor temperatures and reduce energy costs.
Privacy and Light Control: Easily adjust the louvers for privacy and the perfect amount of natural light.
Low Maintenance: Simple to clean and maintain, plantation shutters are ideal for busy households.
Increased Property Value: Installing plantation shutters can enhance the resale value of your home.
Free Consultations
Our team of experts is here to assist you in choosing the ideal window treatments for your space. Whether you're looking for plantation shutters, blinds, shades, or any other window covering, we provide free consultations. We'll discuss your needs, style preferences, and budget to help you make a wise choice that complements your residential or commercial property, whether indoors or outdoors.
Contact Us
Ready to transform your space with motorized plantation shutters? Contact Motorized Shade Experts in Poway today to schedule your free consultation. We proudly serve Poway and the surrounding areas.