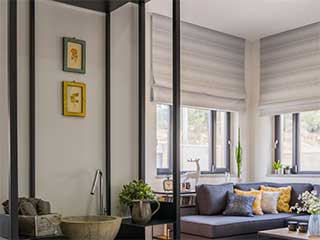 Window shades come in various styles, but undoubtedly one of the most popular covering options that exists today is Roman shades. Ironically, while these shades are a very modern favorite, they actually originate in antiquity, as the 'Roman' in their name suggests. These unique looking shades have a lot to offer anyone who's looking to add a unique touch of décor to any room.
A Unique Operation Method
Rather than simply rolling up or down like other types of window shades, Roman-styled coverings utilize a special technique. They collapse and fold into neat sections, usually by you pulling a cord. Of course, cordless Roman shades are also an option, as are motorized ones that you can control via a handset remote or your phone. This stacked style of custom made Roman shades makes them sit neatly packed on the upper part of the window, which helps to maintain an appeal décor enhancement even when the shades are fully drawn up.
Lots of Versatility
One of the main advantages of Roman shades is how versatile they are. You can choose all sorts of different types of fabrics, as well as various design styles. From looped to teardrop to flat, Roman shades can be designed in a way that contributes to the room's décor and enhances it, without drawing too much eye attention (unless you want them to). Their stacked style does mean that when using heavy fabrics they can begin to accumulate over the window and maybe encroach on some vision real estate, but that is something that's easy to consider during the initial customizing and designing stage.
Light Filtering Options
The ability to choose various types of fabrics for Roman shades, gives you the opportunity to decide exactly what their light filtering capabilities will be. You can choose blackout Roman shades made of thick fabric that will block out sunlight and provide privacy. Alternatively, you can opt for more sheer fabrics that will let sunlight filter through but still provide some UV protection and privacy. By choosing sheer Roman shades in a specific color you can add a tinge to the sunlight that does get through, which will help you create a specific type of ambiance.
Design Your Custom Made Roman Shades
With our help, you can decide exactly how your new fabric Roman shades will look, from pleated to flat or looped. You choose the color and design, pick whether you want to add valance or drapes on top, and if you're interested in motorized Roman shades, cordless ones, or some other operation variation. Contact Motorized Shade Experts for a free consultation and ask our experts everything you want about Roman shades and any other type of window covering.