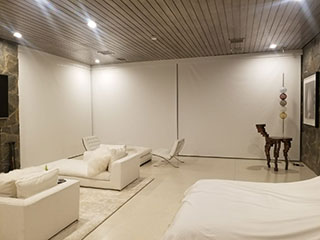 As opposed to regular manual window coverings, motorized blinds give you an easy and fast way to control sunlight in any part of the home or in all sorts of businesses. Motorized window blinds can utilize wall switches or remote controls to connect and receive orders from. With Wi-Fi blinds, you can even use a smartphone or a tablet device as the remote. For Poway area properties, motorized blinds can come in custom sizes and designs at very low and affordable prices. Our professionals can help you choose different aspects and customize new motorized window coverings to meet all your needs. We offer clients free estimates on motorized blinds for windows and for patio covers. And with a wealth of materials and design options, you can always find something to suit your needs.
What blinds To Motorize
Many parts of your property can benefit from motorized blinds. For living rooms with a sliding glass door leading to the patio, you might want to invest in motorized vertical blinds or roller window shutters. These automatic window coverings will let you eliminate glare when watching TV, thus setting the mood perfectly. For kitchen spaces, motorized roller shades can provide sunlight diffusion that you can adjust without using your hands. You don't want to go touching dirty switches and remotes while handling food, after all. Well, motorized kitchen blinds can have wall-switches for you to elbow check. You can even voice command inputs when connecting motorized blinds to smart home systems. Motorized blinds on your kitchen windows help you control the natural lighting conditions and keep them optimal at all times.
Blackout Blind Motorized For Poway Bedrooms
One of the most effective uses of motorized window blinds is in bedroom areas. Consider the following scenario: you turn off the light, climb into bed, close your eyes, and just as you're about to fall asleep you realize you didn't close the blinds. Now you have to get out from under the covers to walk over in the dark and draw the blinds. Well, this won't be the case with motorized blinds installed on your Poway bedroom windows. You can have the remote ready by your bedside, and a simple button push will take care of everything. In fact, you can even get motorized blinds with automatic schedules. That means your window coverings will close and open at certain hours you set. This automation of blinds helps you improve sleeping conditions tremendously. Since sleep is so vital, it's never a bad idea to protect it.
Where To Get Affordable Motorized Window Blinds
The answer, as you can expect, is right here! We specialize in installing custom made blinds, motorized, and in various other variants. Our made-to-measure motorized window covering solutions offer customers the latest remote control features at the best prices in the Poway area. You can learn more about our motorized blinds and window shades by booking a free consultation. We'll send an expert over to measure the windows, show you different samples, and provide a free estimate. Call us anytime for more info or to book an appointment.