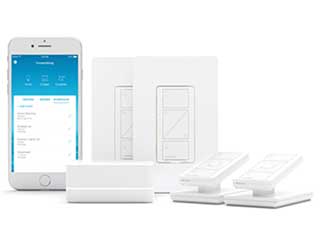 For both aesthetic value and remote control utility, Lutron motorized shades provide a fantastic combination. With motorized window shades, you can add decorative touches to different rooms, while also optimizing the automatic sunlight and climate control. Use smart Lutron shades to dim light at certain hours, adjust privacy levels, and improve energy efficiency. With automatic window covering solutions, you get décor with functional remote control window blinds or shades. And with expert consultations from Poway Lutron shade installers near you, provided for free might we add, you'll enjoy finding the right combination of design, material, and motorized remote control features.
Sheer and Blackout Lutron Window Shades
The opacity level is hugely important when it comes to window coverings. In some rooms, you'll want sheer shades to allow diffused sunlight through. This will save you money on energy, and stop glare off TV and computer screens, letting you enjoy sunlight without the disadvantages. Blackout Lutron shades provide an effective covering solution for bedroom windows. The blackout opacity of these motorized window shades makes them great at keeping you asleep regardless of the hour. Motorized Lutron shades with blackout materials will make it easy to fall asleep as well. And they'll keep prying eyes out of your indoor spaces, making for an excellent addition to privacy.
Wireless Motorized Lutron Shades
In the old days, getting motorized window coverings involved unsightly wires and cables ruining the décor. But no more! With wireless motorized window shades utilizing Lutron control systems, you can create lovely décors without any nuisance. Wireless motorized shades give windows a beautiful, elegant cover without the unaesthetic trimmings of wires running across the wall and ceiling. With wireless remote control features, Lutron shades offer your Poway property different accessibility and convenience improvements. You can choose Lutron shades with dimmers to adjust natural light levels whenever, wall switches in every room, and of course remote controls and smartphone connectivity. Motorized shades for windows have come a long way, and offer you all sorts of fantastic additions and features.
Best Lutron Shades For Poway Area
No need to compromise on quality when choosing affordable options. With our great collection of motorized window shades and Lutron controls, you can get custom made coverings with designs and features you want at a low cost. From opaque to sheer shades, blackout curtains, and more. Our Poway Lutron shade specialists will present you with a wide range of customizable options. For more information and free estimate consultations, give us a call today!