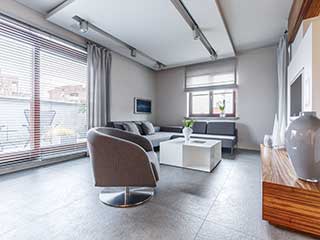 Motorization means that you don't have to deal with tangled strings that pull up one side of your shades but not the other any longer! Instead, all you'll need is a remote control or even your own smartphone to easily open and close them whenever you need it.
Quiet And Fast Moving
Your first concern may be whether the motor in these motorized shades is going to be noisy and wake up others in the household if you open or close them while they sleep. However, there's no need to worry! Our excellent motorized shades not only move swiftly, but make very little noise when they do. This means you're free to put them in the nursery so you can open and close them without a hitch while your little one plays or slumbers. They're also safer with children in general than strings can be, since they may be a choking hazard, which is a great safety bonus!
Smart Home Compatible
If you decide a remote control or wall panel isn't quite right for your needs, how about a tablet or smartphone instead? Your shades can then be opened or close from anywhere as you see fit! Connecting them with your smart home is also a fantastic way to help save energy, as it will be able to adjust them according to the light and temperature of the room while you're not around or busy doing everything else that needs done!
Look Like You're Always Around
Motorized shades can also assist with the security of your home! Setting them to timers or moving them while you're not home will give the impression that someone is around and can dissuade anyone from trying to come inside. You'll be protecting your furniture from sun damage and your belongings all at once! It doesn't get much more efficient and helpful than that.
Take The First Step Now
Why wait to modernize your home when you can get new, efficient motorized shades before you know it? Call Motorized Shade Experts today for the best selection and prices in San Diego!