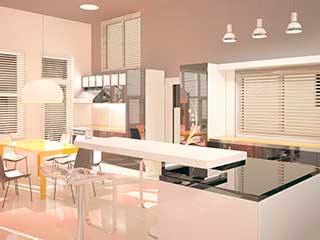 When the typical layman refers to blinds or shades, they usually use the two words interchangeably. It's an understandable mistake to make, given the similarity in both form and function, but these are actually different things. Here's what makes them separate, and a guide to why you might prefer one over the other depending on the window's needs and location.
Sliding And Swiveling
There are generally two types of motion that window coverings can undergo. They can slide over or off of the window pane (usually vertically, but sometimes to the side), and they can separate into multiple parts that rotate in place to let light pass between them. Most window treatments are mounted on sliding frames, but only blinds have slats or panels that can be rotated in place.
Shades Are Semi-Translucent
Shades are so named because they create shading rather than complete darkness; their thickness, material, or structure is such that some light can filter through even when they're closed. Typically made of cloth, bamboo, nylon, or just finely separated strips or cells with a millimeter or two of space in between, shades block out the worst of the sunlight and protect your privacy without ever completely darkening the room behind them.
Blinds Are Paneled
Blinds are usually made of thicker, more rigid materials, such as plastic, wood, or metal, and composed of broad panels that fit together closely or overlappingly enough when rotated shut to keep the light out completely. Blinds are stronger and more secure than shades, but pay for it by allowing little to no air circulation when closed, and being heavier and more cumbersome.
Some Types Are A Mix
There are some styles of window covering that blur the lines between blind and shade. Venetian blinds, for instance, are composed of loosely hanging curtains of flexible rotating panels that combine the obscuring quality of blinds with the airiness and lighter weight of shades. Layered shades, likewise, include rigid, blind-like strips between two layers of fabric to add a more flexible level of light filtration. You can explore the other posts on this blog to learn about other hybrid styles as well as these two.
More Information From Window Covering Experts Near You
Go back to read more blog posts, or call Motorized Shade Experts to ask about getting the type you prefer and scheduling a free consultation appointment.