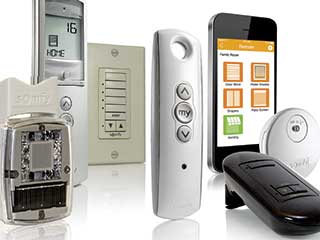 While any automatic window treatments will save you the trouble of walking around and drawing each one by hand, not to mention the child safety concerns intrinsic to their drawcords, different control systems over further advantages. Here's a quick summary of the four main options.
Basic Remote Control
The most common and inexpensive choice is to get motorized shades with remote control receptivity and connect them to a handset, just like most modern air conditioning systems and car locks. When it comes to moment to moment control and convenience, a remote handset is a great place to start. However, remote controls are notorious for getting lost or forgotten around the house, which can leave you in a frustrating and potentially expensive situation unless you have a backup.
Stationary Wall Panels
Wall-mounted control panels and switches for motorized blinds and shades are a little more skill and labor intensive to install and connect if you don't already have them. There is no more reliable option, though, and if nothing else a wall switch makes an excellent backup in case your remote is lost, malfunctions, or you wear its batteries out without replacements at hand.
Adjustable Timer Systems
Many automatic window coverings come with a built-in timer, adjustable either by hand or via a compatible remote handset or wall console. Being able to tell your motorized window shades to open and close on their own every dawn and dusk just once and never having to remember again outsources much of the effort and mental energy of daily home care onto the machine, and ensures that you won't have to worry about heating, cooling, or sun damage even if you sleep in or come home late from time to time. Motorized blinds have so much to offer, they're fast becoming a staple of the modern high tech home.
Smart Technology and Sensors
The most sophisticated option is to install an environmental sensor that can detect sunlight angle and intensity, ambient temperature, or both. It will then remotely open or close your motorized blinds and shades as the situation requires even if there's a sudden change in the weather. This technology is not only reliable, but smart, and will always be standing by, paying attention and managing your windows in real time no matter where you are mentally or physically. Somfy and Lutron are two of the largest most reliable brands that offer motorization and control options for electric blinds and shades. You can enjoy optimized use of natural lighting and indoor climate control without turning on the AC or having to physically draw the blinds. Your smart window coverings will do that for you.
Motorized Shades Near You
Want to learn more about Somfy-powered automatic window coverings and their accessories? Motorized Shade Experts offers free consultations to help you customize your own set. Get in touch with us for more information, and be sure to check out other blog posts to learn even more.